有許多讀者或我的朋友們不時都會說,每天生活緊逼,連有足夠時間為家人準備一頓簡單,但有營養好味的晚餐也難。
Many of my readers, as well as some of my friends said that their everyday life are so hectic, they hardly have time to even cook a simple and nutritional meal for their family.
我是過來人。孩子們小時,我的時間每天也是分秒必爭。很多時也需要在三十分鐘內便要煮好一頓飯。
I know exactly what they mean. When our children were still young, my schedules were so tight and jam packed daily. Most of the time I only had about 30 minutes to cook them a meal.
所以我手上綜合了不少身經百戰的《省時營養家庭菜》食譜。無論任何時間端上任何一味,都非常受歡迎。
今天的主角是榨菜肉丁豆腐 。
Therefore I've gathered quite a collection of 《 Fast nutritious family meals 》, and whenever I serve any of the dishes, my family always like them.
Today's main dish is Diced Pork with Preserved Vegetable & Bean Curd.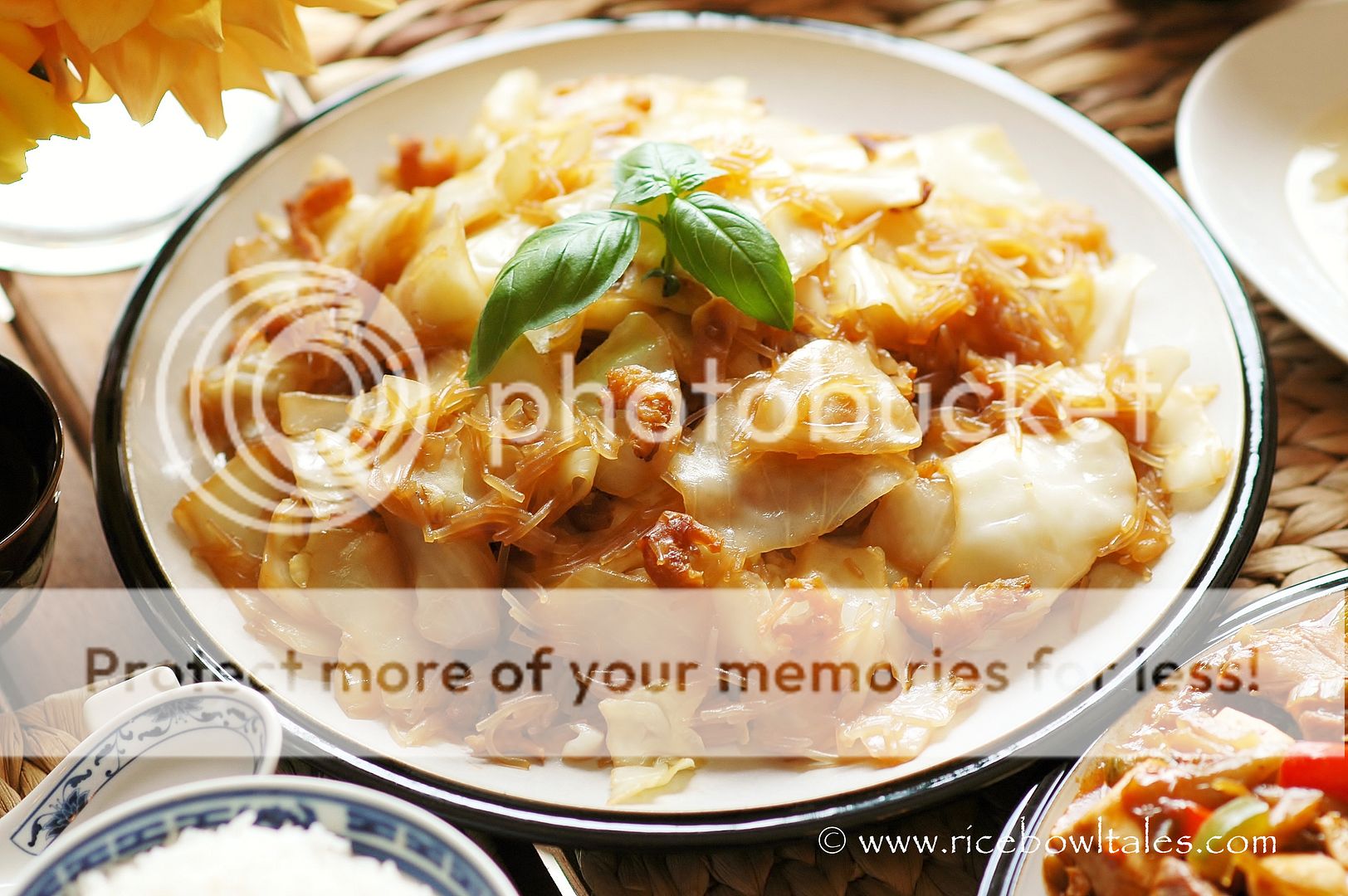 隨便配碟粉絲蝦米炒椰菜 ( 捲心菜 / 高麗菜 )。
Served with stir - fried cabbages, dried shrimps and vermicelli.
徇老公要求蒸一小碟薑絲鹹魚 ( 這個應不可能列入營養食譜之內 )。
In addition to this, my husband's special request - a small piece of steamed salted fish with shredded ginger.
榨菜肉丁豆腐
( 4 人份 )
中型豆腐 8 塊約 650g,切 1 吋丁方
豬頸肉 400g 切小丁塊 ( 比豆腐小 )
榨菜 1 罐,滾水浸 10 分鐘去鹹味後瀝乾
青、紅燈籠椒各 1 隻切小粒
鹽 1 茶匙
生抽 (醬油) 2 茶匙
糖 1 茶匙
麻油 2 茶匙
酒 2 茶匙
胡椒粉少許
生粉 1 茶匙
鹽半茶匙
蠔油 1 湯匙
辣豆瓣醬 1 湯匙 ( 隨個人愛辣程度加減 )
麻油 1 茶匙
糖 1 茶匙
1. 豬肉用醃料醃 10 分鐘。豆腐用水蓋過,加鹽 1 茶匙,大火燒至水開,期間攪動一下讓浮面的 燙熟,關火,瀝乾。
2. 燒紅鍋,下油 1 湯匙;加入榨菜,略炒乾後加 1 茶匙麻油,2 茶匙糖炒至糖溶便盛起。
3. 用濕厨紙抹乾淨鍋。大火燒紅後下油 1 湯匙旋勻燒熱,肉粒放入兜油後排開,保持空間且不要隨意翻動,不然肉不會變金黄,待一邊煎香了才反轉另一面也煎至金黄,加入豆腐一同兜炒片刻。
4. 加榨菜,倒入青紅椒粒,下調味料兜勻,加滾水半杯煮開,加入生粉水勾薄芡,盛碟。
Diced Pork with Preserved Vegetable & Bean Curd
( serves 4 )
Ingredients:
8 pieces medium size bean curd about 650g, cut into 1" size cube
400g pork collar diced into small cube ( smaller then bean curd )
1 tin preserved vegetable, soak in boiling water for 10 minutes to reduce the salty flavour
1 red and green pepper each, cut into small cube
1 teaspoon salt
2 teaspoon light soy sauce
1 teaspoon sugar
2 teaspoon sesame oil
2 teaspoon white wine
1/2 teaspoon ground white pepper
1 teaspoon corn starch
1/2 teaspoon salt
1 tablespoon oyster sauce
1 tablespoon chili bean sauce ( according to taste )
1 teaspoon sesame oil
1 teaspoon sugar
Corn starch mix ( for thickening ):
1 teaspoon corn starch + 2 tablespoon water
Marinate the pork for 10 minutes. Put bean curd in a pan, cover with water, add a teaspoon salt, bring to boil, stir occasionally to cook well, drain and leave on one side.
Heat pan, add 1 tablespoon oil; put in the preserved vegetables, stir fry a couple of minutes, add 1 teaspoon sesame oil, 2 teaspoon sugar to fry until sugar dissolved, place on a plate.
Use wet kitchen paper to clean the pan. Heat it up again, then heat up 1 tablespoon oil, add the pork, spread them out to cook until golden on each side, put in the bean curd to stir fry together.
Add the preserved vegetables, red and green peppers, mix with the seasoning, stir fry everything together for a few minutes, pour in half cup of boiling water, bring to boil, stir in the corn starch to thicken the sauce and is ready to serve.
以後我將會陸續為大家示範多款不同的中西式《省時營養家庭菜》和編聚在一起,可以方便給各位忙碌的煮婦們提供一點参考資料。
I will from time to time share with you some more《Fast nutritious family meals》dishes from all over the world, and put them together into a category. Hope to offer lots of cooking ideas to suit your busy life style.