每年聖誕節前, 我都會預做很多聖誕美食。
Every year before Christmas, I make a lot of different Christmas food.
對我來說, 就像是過農曆新年一樣 : 那準備期間情緒的興奮, 絕不遜於大日子來臨的那天。
For me it's like Chinese New Year: the preparation beforehand is almost as exciting as the big day itself.
多年來我都用著同一個食譜。已嘗試多次, 不會失敗的, 最重要的是, 非常可靠。
I have a recipe which I use every year. It's tried and tested, fault proof and most importantly really reliable.
今年, 我從很多雜誌和食譜書上看到些很精彩的介紹; 令我躍躍欲試。
This year however I came across quite a few interesting recipes in books and magazines, which led me to try them out.
心想如果我可以在佳節期間一個晚餐後, 端出款全新製作的樹幹卷來給家人來個驚喜, 那會有多好。
I thought to myself that it would be great to surprise my family with a new creation after one of our festive dinners.
第一個試做的食譜要用 250 克打碎了的核桃作為蛋卷主要材料。沒做成功, 因為一捲便碎開來了!
The first one I tried used 250grams of finely chopped roasted pecan as the main ingredients in the sponge mix. The result was not a success as the sponge crumbled in my hand!
再試另一個, 也失敗了, 蛋卷也是破裂得捲不起來。
結果, 我把做不成的蛋卷塊切成小方塊, 當作零食小口算了。
Then I tried another recipe; again, the log fell apart when I tried to roll it up.
I ended up cutting the both sponges as squares, turning them into bite-sized snacks.
不用說, 我當時感到又倦又洩氣 ... 只是懷念著往年的樹幹蛋卷!
Needless to say I felt tired and deflated after these failed attempts ... and couldn't help but thinking about the Yule logs that I made in the past!

我老公對我說: 「如果它沒壞, 就不要修理它。」
My husband said," If it ain't broke, don't fix it."
不明所義, 我問他: 「你的意思是甚麼?」
Puzzled, I asked," what do you mean?"

他說: 「每年做的炸煎堆, 你不是都用同一食譜嗎? 也沒有人投訴呀! 是甚麼令你認為樹幹卷要換的呢?」
He said, " You've never changed the recipe you use for deep fried sesame balls every Chinese New Year and nobody complains, so why did you think you should change the Yule log?"

他說的似乎也蠻有道理。
I thought he had a point.
So here it is: the same recipe that I use year after year. I made another one his year for the blog, took new photos for the steps so that you can see how it was made clearly; and added more detail to show you how to apply the chocolate icing neatly, avoiding any mess.
巧克力樹幹蛋糕卷 《聖誕糕點》
材料:
蛋糕卷:
中號雞蛋 3 隻
黃砂糖 Golden caster sugar 85g / 3oz
麵粉 plain flour 85g/ 3oz 篩進碗中 ( 然後取起 2 平湯匙, 因為會加 2 平湯匙可可粉 )
可可粉 cocoa powder 2 平湯匙篩進麵粉碗中
泡打粉 baking powder 1/2 茶匙
雙忌廉 double cream ( heavy cream ) 150ml / 5 floz
糖霜粉 icing sugar 1 湯匙
巧克力外層:
無鹽牛油 50g / 2 oz
黑巧克力逐格折斷 140g/ 5 oz
黃糖膠 1 湯匙
雙忌廉 double cream ( heavy cream ) 125ml / 4oz
糖霜粉 100g / 4 oz 過篩
合桃碎裝飾
瑞士蛋卷 23 cm x 32 cm 烤盤 1 個, 少許牛油作塗沒烤盤和烘焙紙備用
Chocolate Yule Log 《Christmas Cooking》
Ingredients:
For the sponge roulade
3 medium size eggs
85g / 3 oz golden caster sugar
85g / 3 oz plain flour sieved into a bowl ( take 2 level tablespoon out, will be replaced by 2 tablespoon cocoa powder later )
1/2 teaspoon baking powder
2 tablespoon cocoa powder
For the filling:
150ml / 5 floz double cream
1 tablespoon icing sugar
For the chocolate icing:
50g/ 2oz unsalted butter
140g / 5oz plain chocolate broken into small pieces
1 tablespoon golden syrup
125ml / 4 oz double cream
100g / 4oz icing sugar sieved
Chopped walnuts to decorate
1 23cm x 32cm swiss roll baking tin
Butter or oil to grease the baking tin, and some baking parchment
做法:
1
. 在瑞士卷烤盤上先塗少許牛油才把烘焙紙鋪上, 可助紙黏緊盤上。然
後掃上牛油。
2
. 預熱烤爐至 180C / 350F / Gas4 , 大碗內倒入蛋和糖, 用手提打蛋器打 8 分鐘至厚滑。
3. 麵粉, 可可粉和泡打粉過篩。
Method:
1. Grease the Swiss roll tin and line with non-stick baking parchment, grease the parchment as well.
2. Preheat oven to 180C / 350F / Gas 4. Beat the egg and sugar into a bowl for 8 minutes till thick and
smooth.
3. Sieve plain flour, cocoa powder and baking powder in a bowl.
4.
把過篩的粉加進蛋糖漿去, 用膠括小力翻攪拌勻。
5. 倒進烤盤撥勻至邊角緊貼, 撥平。置預熱烤爐內,烘 12 分鐘左右, 因糕身薄, 要小心留意, 不
要烘焦, 否則捲時會容易爆裂。至表面微黃, 用竹籤剌進, 抽出來時沒有黏物便成。
4. Put the sieved powder into the egg and sugar mix, fold everything together carefully with a spatula.
5. Pour into the tin, spreading evenly and close to the corners and edges. Bake in the preheated oven for
about 12 minutes. Because the sponge is so thin, take care not to over cook it, or it will crack badly
when trying to roll it up. Insert a bamboo stick to test, if it's clean when the stick pulled out then it's ready.
6.
cover the cake with a clean damp kitchen towel and leave to one side.
7.
做巧克力外層: 把牛油和巧克力塊放小碗中, 蓋保鮮膜置微波爐內熔化。取出倒入大碗, 加糖
膠和雙忌廉, 混進糖霜粉, 拌至十分光滑。
8.
檯上鋪一塊烘焙紙, 紙上灑一層幼砂糖以防糕面黏底。蛋糕小心反倒在紙上, 糕底向上, 輕撕
去糕底的紙, 用利刀將四邊修切整齊。小心輕力連紙一起把蛋糕捲起。
7. Make the chocolate icing: put butter and chocolate in a small bowl, cover with cling film, and place it in
microwave to melt; pour into a big bowl with sugar and cream, stir in the icing sugar, mix all well and
smooth together.
8. Sprinkle a sheet of baking parchment with caster sugar, turnout the cake onto the paper, and peel off the
lining paper on top. Use sharp knife to trim the edges. Carefully roll the cake up with the paper inside.
9.
做奶油餡料: 雙忌廉加糖霜粉, 用手提打蛋器打至起軟角。 輕輕放平蛋糕, 把奶油餡均勻塗
上。
10. 小心把蛋糕捲起。因為這蛋糕沒有加牛油, 有小裂痕在所難免, 但沒有問題, 等會用巧克
力糖霜可以蓋過的。
9.
To make the cream filling: beat the cream and icing sugar till it forms soft peak. Gently unroll the cake,
spread the cream over.
10. roll the cake up carefully, because we didn't use butter to make the sponge mix, inevitably it will have
some small cracks, but it doesn't matter, they will be covered by the chocolate icing later.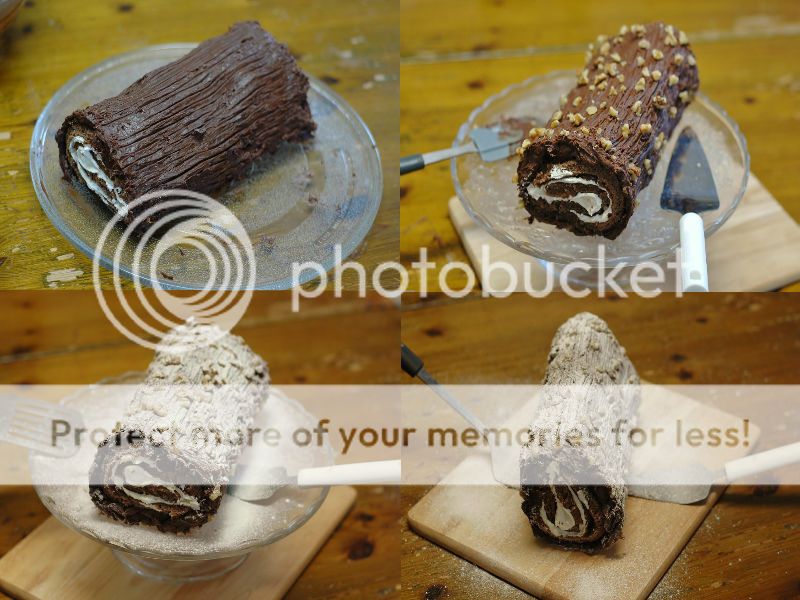 11. 將一邊的蛋糕卷塗上巧克力糖霜, 用叉子劃下樹皮紋, 按上合桃碎;灑下糖粉。稍待外層硬
化一點後才小心用兩隻鐵鏟子反轉塗另一面; 重覆上述步驟至整個蛋糕卷塗滿巧克力糖
霜。 然後才小心放在乾淨的盛碟上桌。
11.
Spread chocolate icing on one side of the Yule log, use a fork to draw lines to look like bark. Press
walnut pieces on the chocolate icing, sprinkle with icing sugar to resemble snow. Wait until the chocolate
icing become harden, use two metal spatula to turn it to one side, repeat the above steps, until the whole
Yule log is completed. Then carefully lift it onto a clean plate and serve.
現在我相信你也可以跟著做而能獲得滿意的成績。
Now I can be sure that you will be able to follow it and produce good result too.
今次我加了些粗粒的合桃碎在蛋糕卷表面, 讓其外貌更具鄉村風味。也更添口感和味層。
I've also added some roughly chopped walnuts on the outside to make the log look a bit more rustic. They helped to increase the texture and flavour of the Yule log too.